Whether your home has an existing stainless steel twin wall flue or you've simply changed your mind on the type of heating system you want in your home, you may be wondering if you're stuck with your current option.
The good news is that it is possible to fit a cosy wood-burning fire into a twin wall insulated stainless steel flue system to perform as a chimney to take away the harmful gases to the atmosphere. This removes the need to build a masonry chimney stack which could be very costly and take up a large amount of floor space internally and externally on your property. Not to mention it helps you avoid some of the disadvantages of having a chimney.
What to Know About a Twin Wall Flue
Before diving into fitting a traditional or modern appliance into a twin wall flue system, there are some elements you will need to consider to determine the best and most cost-effective way to take the harmful gases away to safety.
Since your flue pipe is the foundation of your stove installation, it's important to put plenty of thought into where it will be located and how you prefer to have it installed. Due to the broad range of components available in the twin wall system, you do have some options here.
There are simply two ways to flue your appliance, either internally or externally. Internally will consist of the twin wall fire-rated product passing up through the floors of the building until the final roof penetration to termination. During an internal installation, firestop components are used to protect the flue system as it passes throughout the entire height of the building via combustible floors along with living and loft spaces. Boxing in of the twin flue system will be necessary for bedroom areas, and protection will need to be offered within loft spaces to prevent any risk of items touching the outer casing of the pipe.
External installations are simply run up the exterior of the building, terminating a specific height above the tiles to help the twin wall system draw correctly. Generally, the twin wall flue will pass through the external wall at a 45° angle to assist with the smooth flow of gases and to allow the ease of sweeping the flue system at a later date. The external wall of the building will need to be sleeved to allow the twin-wall pipe to pass through and decorative cover plates can be installed to offer an aesthetic look to the installation. Sweeping of the twin wall flue system is done via the appliance or an angled 135° tee section located externally with a removable cap.
The decision for an internal or external flue system usually is site-specific. External installations may need fixed scaffold or special access requirements and internal installations simply may not have the required clearance thorough floor and living areas to accommodate the minimum distance to combustibles.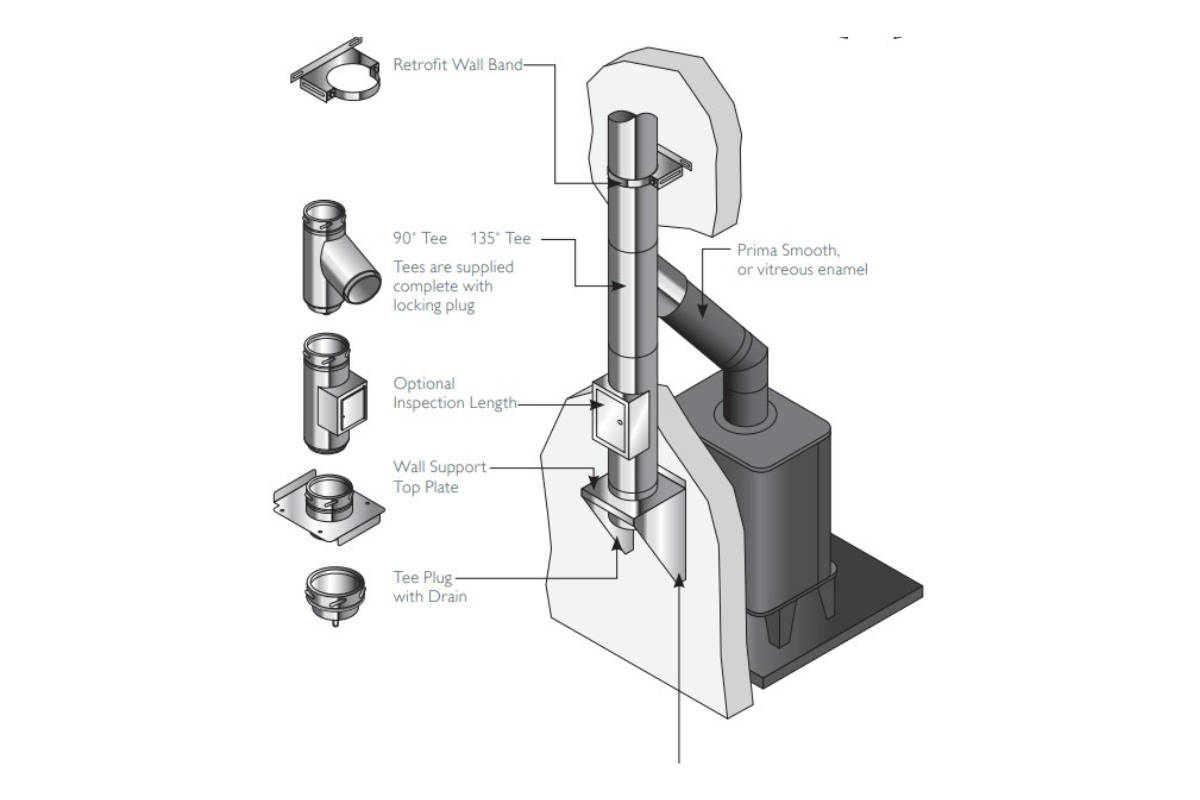 Fitting a Wood Burning Stove for Your Twin Wall Flue System
Now that you've decided on which twin wall flue is right for you, it's time to start looking into fitting your wood burning stove. If you're one of the many homeowners that would gladly trade a gas or electric stove for the sound and smell of a roasting fire, we are right there with you. However, it's essential to contact a professional HETAS registered installer before taking such a project on to ensure the proposed installation is first possible and will meet with the current building regulations to tie in with your house insurance.
The installation must be signed off by a qualified HETAS installer who will register the product warranty and register the installation with HETAS too. Also, check building regulations and look at other areas like combustible floors. Another thing to check is the distance to combustible materials from your stove. If you're still set on installing a fireplace, there are some supplies you'll be needing to fit your wood-burning stove.
What You'll Need
First, you'll need to narrow down the type of wood-burning stove you want to install. Typically this means choosing between a multi-fuel stove and a traditional wood-burning stove. If you choose a multi-fuel or wood burning stove, then you will have some flexibility in what your stove uses as fuel. Multi-flue appliances can be fuelled by wood, coal, or other smoke-free fuel methods. Once you have your stove of choice, you'll need a properly sized stove pipe. This means the diameter of your stove pipe is the right fit for your chosen stove while still maintaining the aesthetic quality you're looking for.
You'll also need to be sure that your stove of choice matches all the measurements required for your existing twin wall flue system. Otherwise, you'll need to buy a new one to match as some old twin wall flue systems don't meet the current regulations which request a 25mm (1") insulated cavity either side of the inner flue liner. Finally, you'll be needing a hearth for your stove to rest on. It's recommended that your hearth has a density of 12mm thk. It will also need to cover roughly 225mm (9") in front of the door of your stove (subject to the type of stove and door width). In addition to making your stove look even more authentic, your hearth will also help keep your home safe as they dramatically reduce fire hazards.
Extra Options
Some homeowners looking to add an extra rustic appeal will add additional elements to their stove top to give it the desired look and feel. This can be done through the use of a fireplace chamber or a fireplace beam. Both of which provide a clean look and feel. You can also add on additional storage for your wood, or choose a glass door to make the fire more visible in the room. It's all a matter of preference. Whatever add ons you choose, be sure that they are safe and won't enhance your risk of a fire occurring. Part of doing this means shopping with a trusted manufacturer that knows where to take extra precautions.
Installation and Fitting
Once you're sure about the location where you want to install your twin wall insulated flue, then you're ready to start. If working with an exterior flue pipe, you will need to have the wall broken out to allow for the installation of the flue pipe to the external leaf of the building. Additional to this the hearth will need to be set in place, allowing the minimum combustible clearances around the stove. The pieces of your stove and your flue will be connected, allowing the smoke to make its way through the twin flue system.
You may require the external flue system to match the colour of your brick work or building which can be acheved by powder coating the flue sections to any BS or RAL colour prior to installation.
Finding the Right Twin Wall Flue for Your Vision
Once you've installed the right twin wall flue into your home, you'll be one step closer to the cosy fireplace or wood-burning oven you've always dreamt of. The key is to find a quality manufacturer that you can rely on. Installing a twin wall flue and wood-burning stove takes time, money, and hard work. This is why the last thing you want is to have to rip it out and start over due to a poorly manufactured wall flue. This is why Nationwide Chimney Components puts time, passion and care into manufacturing all of your flue and chimney needs.
Our stoves and flues will provide you with a quality performance that can stand the test of time. If you're still having trouble finding the right twin wall flue for your home, contact us today so we can help.
Recent Posts
The government has introduced new regulations for customers looking to burn wood in stove …

Any home modification that involves altering the existing chimney, such as a wood-burning stov …

As the winter approaches, many of us turn to the heating appliances in our homes to provide us wit …